Get "Lost in the 50s" with the Endowment Auction This March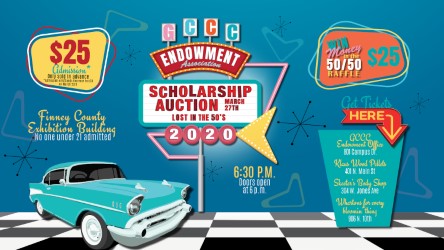 [Garden City, KS] Feb. 10, 2020 – The Garden City Community College Endowment Association is once again hosting its signature scholarship fundraiser of the year, this time in 1950s fashion.
"Lost in the 50s" is the theme for this year's 2020 GCCC Endowment Auction, which will be held on Friday, March 27, 2020, at the Finney County Exhibition Building, 409 Lake Ave., in Garden City.
GCCC Endowment Association Director Jeremy Gigot said this year's auction is a night no one should miss.
"Men, comb your hair back into a ducktail, and, ladies, put on your best poodle skirt – it's a good time for a great cause," Gigot said.
This year's Endowment Auction features both live and silent auctions, and a chance to win big in a 50/50 raffle. Raffle tickets are $25 each and sold in advance only. Winner of the 50/50 raffle will be announced at the end of the night's auction, but the winner does not need to be present to win. All proceeds benefit GCCC students in both academic and technical programs in the form of scholarship funds.
Admission wristbands for the event are $25 per person, and only available to adults 21 years of age and older. Unlimited beverages of beer, pop, iced tea, and water are included. A meal will also be available at the event for purchase but is optional for guests. On March 23, 2020, admission wristbands will increase to $30 per person. Wristbands must be purchased in advance and are not available at the door.
Wristbands and raffle tickets are available at the following Garden City locations: GCCC Endowment Association, 801 Campus Drive; Klaus Wood Pellets, 401 N. Main St.; Skeeter's Body Shop, 3104 W. Jones Ave.; and Wharton's for every blooming 'thing, 906 N. 10th St.,
Visit www.gcccendowment.com for more information or contact the Endowment Office at 620-276-0412.
High quality image(s) are available upon request. Garden City Community College exists to produce positive contributors to the economic and social well-being of society.