GCCC Hosting 8th Annual Polar Plunge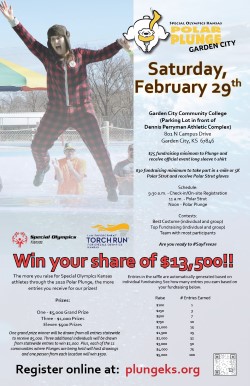 By Garden City Community College –
Garden City Community College will be hosting the Garden City Plunge & Strut, a benefit for Special Olympics Kansas (SOKS), on Saturday, Feb. 29, 2020.
More than 30 individuals have already pledged to plunge into the icy waters of a pool that will be constructed in the parking lot of the Dennis Perryman Athletic Complex, including GCCC's own president, Dr. Ryan Ruda.
GCCC Criminal Justice Instructor Brandy Unruh, who challenged Dr. Ruda to plunge, said participation is a great way to "get involved in something bigger than yourself."
"This event supports Kansas Special Olympics, a very worthy cause, and the money raised stays in Kansas and helps the Special Olympics athletes be able to participate in athletic events," Unruh said. "I started participating for fun, but then I realized the athletes have as much fun as the plungers do."
The 2020 fundraising goal for the Garden City Polar Plunge is $12,000, according to Luke Schulte, senior vice president of Development for SOKS. The money raised from the event helps fund equipment, year-round sports training and competition, health programs, and leadership classes for SOKS athletes.
Schulte said heated spaces inside the basketball arena will be available for participants to dry off and change after taking the Plunge. In addition, awards will be given to top finishers for the Polar Strut, best costumes for individuals and groups, top fundraisers, and to the team with the most participants.
Plunge participants have been asked to pay or fundraise a minimum of $75 and will jump in the pool at noon. The Plunge will also feature a family friendly 5K Polar Strut, starting at 11 a.m., around the campus for those who want to join the fun but not get wet. All who register and pay $30 for the 5K will receive a pair of commemorative gloves. Registration for both events can be done online at www.plungeks.org/gardencity or starting at 9:30 a.m. on the day of the event.
Additionally, if a participant in either the Polar Strut or Polar Plunge raises over $100, they are entered into a raffle to win their share of $13,500. The more money a person raises, the more entries into the raffle. For a complete breakdown of entry levels, visit www.plungeks.org.
In addition to the local event, Polar Plunges are scheduled in 10 other cities throughout February and March. For more information, contact Schulte at [email protected] or 620-408-4450.
Higher quality image(s) are available upon request. Garden City Community College exists to produce positive contributors to the economic and social well-being of society.
EVENT SCHEDULE
9:30 a.m. – Check-in and in-person registration begins
11 a.m. – Polar Strut start
Noon – Plunge
LOCATION
Dennis Perryman Athletic Complex
Garden City Community College
801 Campus Drive
Garden City, KS 67846
ABOUT SPECIAL OLYMPICS KANSAS
Special Olympics Kansas (SOKS) is dedicated to empowering individuals with intellectual disabilities to become physically fit, productive and respected members of society through sports competitions, health and nutrition programs and leadership development. SOKS is a non-profit organization supported almost entirely by corporate and individual gifts, and events. The generosity of Kansas organizations, individuals and statewide businesses enable the program to continue. Special Olympics' goal is to create a world where every single person is accepted and welcomed. Together, we are helping to make the world a better, healthier, and more joyful place — one athlete, one volunteer, one family member and one plunger at a time.
###