Paws on Covid-19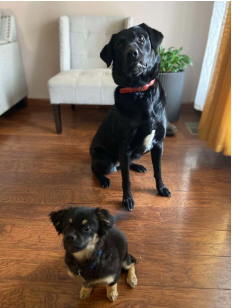 There is no doubt in times like these students are stressed out. Our schedules have changed in the matter of a blink of an eye. Some students were left without work, others either had to stay or go home depending on the situation, and in the end everyone had to switch to online classes. 
It's easy to become stressed when your routine as a student is jumbled into a big cluster. Which is why if you have a dog, cat, or any pet, these little friends can become even more essential in your life. According to the Mood Boosting Power of Pets, "Pets, especially dogs and cats, can reduce stress, anxiety, and depression, ease loneliness, encourage exercise and playfulness, and even improve your cardiovascular health."  
For freshman, Jazmin Orozco, having Kali and Bear (her two dogs) around has been extremely helpful. Having Kali for over a year and Bear for just a little over four months, "They're so loving and compassionate. Whenever I feel down they're always there to cheer me up," Orozco stated. Dogs are a man's best friend who usually keep an owner entertained and on their toes.  
Having a pet is a responsibility as they crave attention and must be taken care of properly. Some would even go far enough to say that their dog is like their baby (no objections from my part). Pets today also encourage social distancing while you refrain going out with friends and staying home with them or taking them on walks instead.  
"They're never mad at me and will always love me," stated Orozco. A pet won't solve all your problems, but they can help you feel better and encourage you to keep going when there seems be no reason to.  
If you are considering on having a pet in your home, note that they require as much love and care you would give to someone close to you. A pet is a bundle of joy that is ready to give you all their love and help enhance your life. The Finney County Humane Society has pets for adoption that are looking for a home and owner to love. They may be contacted at (620)-277-3725 and are located at 124 N Fleming, Garden City, KS 67846. 
Anatole France, a French poet once said, "Until one has loved an animal, a part of one's soul remains unawakened."