LOCAL ACTOR RAISES LGBTQIA VOICES WITH VOTER REGISTRATION TOUR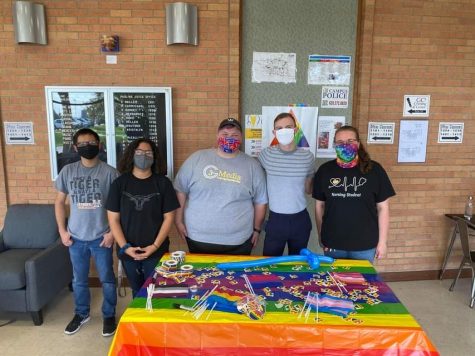 Back in 2019, when actor/writer Brett Crandall relocated from New York City to his home state of Kansas, he had more on his mind than just touring with his budding theatre company. "I moved back to vote," Crandall declared during a Q&A at Garden City Community College as part of his queer-voter initiative. "In New York, I was a dime a dozen. But in Kansas, I stick out like a sore thumb and it turns out that really matters."
With the 2020 election upon us, Crandall, an openly gay actor, writer, producer, puppeteer, and activist, reached out to LGBTQIA student-led groups on college campuses across Kansas, promoting his QUEER KANSAS VOTER REGISTRATION TOUR. Each event began with voter registration with local volunteers or resources from HeadCount.org, followed by a performance of an interactive, LGBTQIA-inclusive murder mystery.
When asked how the show went, Crandall said hopefully, "Holding these events for young, queer people has been a humbling honor and dream come true. It's hard to picture Rainbow flags flying in rural areas, so to see these queer student-leaders rise to this pivotal moment in history feels like I actually get to witness real change."
Students at Wichita State University got to experience the tour virtually, as COVID-19 restrictions made it necessary to adapt to online shows. Garden City Community College's PRISM group, however, brought the event to their students, making it the first in-person event on campus this school year. The limited capacity and masks worn by volunteers only made for more hilarity during Crandall's performance of his original murder mystery, Murder at the Wolf Hotel.
Sophomore Dalton Janousek, acting as the president of PRISM, GCCC's LGBTQIA student group, introduced the event. "Being the first event on campus was really awesome, especially because the type of event we held was very important. I was super excited about the attendance on hand and how many people were able to register to vote." Janousek explained passionately that this year it was crucial for young people to know how to navigate the unprecedented election year and voting processes. "I was so happy to see people getting the information they needed. Not only was this event guided toward our LGBT students but also our straight allies." Janousek and Crandall hope this is the first of many civic outreach events to come.