Buster Highlight – PRISM
Hang on for a minute...we're trying to find some more stories you might like.
Clubs and activities that support the LGBTQ community can be found in colleges around the nation. PRISM, which stands for Promoting Respect and Inclusion for Social Minorities, is a new club at Garden City Community College that supports the LGBTQ community. "It's a new Gay/Straight Alliance club on campus. We promote awareness, understanding, and tolerance of gay, lesbian, bisexual, intersex, questioning, and transgender issues through advocacy, social activities, and community service." Taniah Fairbanks, a student at Garden City Community College who helped create PRISM, said. "PRISM seeks to provide a support network for the students of GGCC as well as to educate others to challenge stereotypes associated with LGBTQ+ lifestyles." While the club is fairly new even alumni from Garden City Community College are happy to finally see a club that supports the LGBTQ community here on campus. "After posting on social media about the club, a lot of alumni contacted me and told me they wished the college had something like this when they went here." Fairbank said. "So, I think it's something that's needed to happen for a long time." Even students who have only recently learned about the new club have also expressed their support towards the club. "A lot of places now and days have clubs and organizations that support the LGBTQ community." Joel Saenz, a student at Garden City Community College, said. "I am actually really happy to see that happening here because it is showing that we care about all communities. It gives a sense of "you matter" to another group of people."
Like most clubs, the idea of PRISM was simply an idea. Over time, however, it eventually became a reality for the community of Garden City Community College. "The club was started by a couple of students that Brian McCallum and I meet in our classes, Taniah Fairbank, Sheridan Rodriguez, and Miranda Ferrel were talking about how they should start a gay straight alliance and PRISM was something that encompassed more people than just gay straight alliance." Michael Knutson, an instructor and Garden City Community College and advocate of PRISM, said. "It was a group that students started on campus mainly by students; Brian and I jumped on mainly to support our students. It is mostly a student driven organization brought to the campus by students." 
Even though the club has only had one meeting they already have come up with several activities, ideas, and goals for the future.
"In their first meeting so far, they have decided on a couple of things that they might do and future plans, but nothing is set in stone yet." Knutson said. "One of the major activities or missions for the club would be too spread awareness and to create a safe place on campus for people to come to [sin] and to feel welcome and feel comfortable being themselves. Some of the activities they've talked about were maybe buttons, shirts, banners and maybe a march."
Taniah Fairbanks also shared some of the club's goals and future activities.
"Our goals right now are to promote tolerance." Fairbanks said. "The members have expressed interest in getting out into the community and getting the community involved in the club, which is one of my personal goals for the club. We've talked about maybe putting together a drag show and inviting other GSA's and other communities. We have also talked about creating a Pride Parade or celebration for Garden City. I'm excited to see what the club accomplishes this year."
While the club is still very new at Garden City Community College, it shows potential to grow into a loving and supportive club for students of all kinds.
About the Writer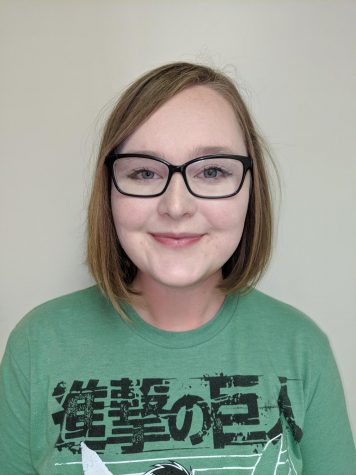 Rilee Harris, Staff
Hi my name is Rilee Harris. I write, take photos, and dabble in graphic design for GC3 media. In my spare time I like to draw and write random stories...