GP Maker Space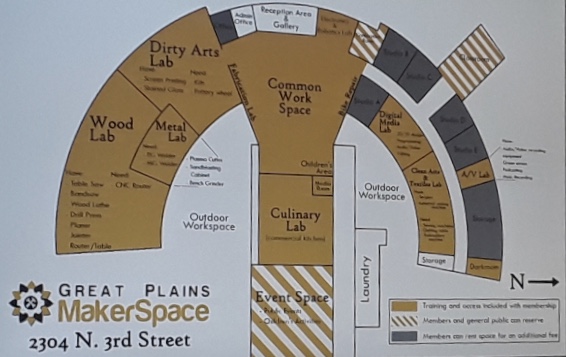 GP Maker Space is coming soon to Garden City, KS. GP Maker Space is a space to create and share creations. Chris Turpin, an English instructor at Garden City Community College, has worked on organizing a place for people to come together and create. The space will have several different workshops including a woodwork shop, a metal lab, a culinary lab, digital media lab, and much more. Those who decide to take part in the GP Maker Space Lab will have to pay a $40 membership per month. This monthly payment allows access to the entire workshop and time for participants to take classes if they wish to learn how to work items such as a 3-D printer, or how to operate a recording studio. Turpin mentioned that those who choose to participate in classes can learn how to operate old, and newer technology such as a sewing machine. The program offers education for certain activities to keep the "old skills" alive. When asked why he wanted to pursue the project Turpin said, "'Cause I thought would be cool." He also added that he is excited to see the different kinds of projects people will create. People will also be able to rent their own space if they need a space to work on a project. It's about sharing and helping each other out, where creative minds can get together and create something wonderful. GP Maker Space will be available in 2020 on 3rd Street, in Garden City, Ks. 
About the Writer
Alondra Fuentes, Staff




My name is Alondra Fuentes and I am the editor for GC3 Media. As the editor my job is to edit every story before posting them on our...