College Players Present "Almost, Maine" February 20-23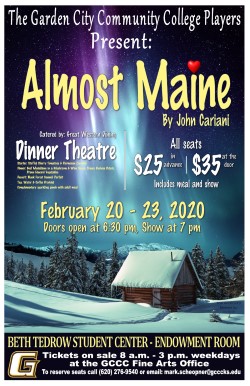 The Garden City Community College Players are proud to present "Almost, Maine," a dinner theater, during four evenings later this February.
Just following Valentine's Day, the program is scheduled to begin at 7 p.m. each evening on Thursday, Feb. 20, Friday, Feb., 21, Saturday, Feb. 22, and Sunday, Feb. 23, 2020.
"Almost, Maine," is the perfect date night opportunity! Bring someone you love and enjoy a three-course meal while discovering how several couples navigate love and loss in a remote and fictional New England town.
The play, written by John Cariani, comprises nine short plays, and first premiered at the Portland Stage Company in Portland, Maine, in 2004, breaking box office records and garnering critical acclaim.
For this production, the College Players will have a minimalistic set, according to Phil Hoke, GCCC's theater director. This is because it's important that the audience focuses on the message of the play, rather than the visual aspects.
"Almost, Maine is truly set in the imagination of each and every audience member," he said. "It is almost real, almost make-believe, and always touching."
The collection of shorter plays centering on love and the magical ways people weave in and out of it makes it the perfect couples' play or Valentine's Day gift, Hoke added.
"It's partly a dream where anything can and does happen, and partly realistic. This makes the work touching, sentimental, silly, profound, and even healing," he said.
Doors open for each evening performance at 6:30 p.m. Dinner includes stuffed cherry tomatoes and parmesan zucchini to start; beef medallions in a mushroom and wine sauce, a cheesy duchess potato, and Prince Edward vegetables for the main course; and a black forest cannoli parfait for dessert. Tea, water and coffee are included, and complimentary sparkling punch will be served for adults 21 and older.
Tickets, $25 in advance or $35 at the door, include both dinner and the show. To purchase tickets, contact Mark Scheopner, Fine Arts Secretary, at 620-276-9540 or [email protected] between 8 a.m. and 3 p.m., Monday through Friday.
High quality image(s) are available upon request. Garden City Community College exists to produce positive contributors to the economic and social well-being of society.