Two GCCC Students Named to PTK All-Kansas Academic Team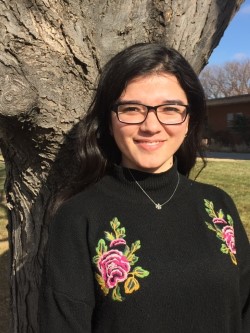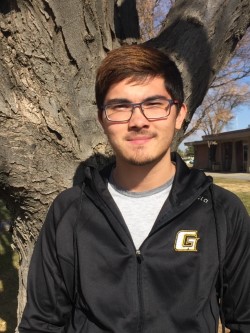 Garden City Community College – A pair of international students from Garden City Community College have been named to the Phi Theta Kappa All-Kansas Academic Team, joining the ranks of more than 50 other top scholars across the state.
Alpha Xi Upsilon members Han Berdiyev and Zarina Davletova, both from Turkmenistan, will be honored with a medal and certificate during the annual All-Kansas Academic Team Luncheon on March 12, 2020, in Topeka.
Alpha Xi Upsilon is GCCC's chapter of PTK, an international honor society for two-year colleges. Students must have a GPA of 3.5 or better to be inducted into PTK, which serves to promote scholarship, leadership development and service, and the cultivation of fellowship among qualified students, according to Winsom Lamb, an advisor for the group and GCCC social science instructor.
"We tell students that they will get out of PTK only what they put in," Lamb said. "Han and Zarina are 100% putting in as much as they can to take advantage of their membership."
Berdiyev, a computer engineering major with a 3.8 GPA, is from Mary, Turkmenistan and is the son of Berdiyev Almaz and Annamuhammedova Ogulhajat. In addition to PTK, Berdiyev is also a member of Student Government Association, the Math and Science Club, Global Community Club, and Collegiate Quiz Bowl. He tutors his peers in math at GCCC's Comprehensive Learning Center and works part-time in the Information Technology department, too. He hopes to transfer to Mississippi State University to continue his studies next fall.
"Being a part of PTK family helped me to discover my leadership skills and build lifelong friendships," Berdiyev said. "I am thankful to be a part of PTK and for the support of my chapter advisers."
Davletova is a math economics major with a 4.0 GPA. She is from Turkmenabat, Lebap, Turkmenistan, and her parents are Davletov Ilham and Davletova Venera.
In addition to PTK, she is also a member of SGA, the Math and Science Club, Global Community Club, and Collegiate Quiz Bowl. She, too, tutors her peers in math and economics in the Comprehensive Learning Center and serves as a Residential Life Advisor on campus.
She hopes to transfer to Colgate University next fall and said being a part of PTK has been a rewarding experience.
"Being far from home, our PTK chapter has become like a family to me because of all the wonderful people in our group," Davletova said. "Through leadership conferences, community services, and college projects, I've been able to not only learn but also develop myself as an individual."
In addition to a $300 stipend towards their Spring 2020 semester at GCCC, the designation also guarantees Berdiyev and Davletova a minimum $1,000 scholarship at one of the six public universities in Kansas, Washburn University, or several other private colleges in Kansas, should they choose to attend.
In total, 54 students have been named to the All-Kansas Academic Team, in recognition of their academic achievement, leadership, and community service.
PTK, the Kansas Association of Community College Trustees, and presidents of the state's 19 community colleges sponsor the state academic team. These same students are now eligible for the All-USA Academic Team.
Higher quality image(s) are available upon request. Garden City Community College exists to produce positive contributors to the economic and social well-being of society.