HOMEWORK LEVELED UP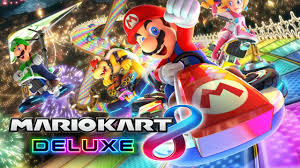 Do you like to game, but absolutely hate doing homework? Recent events have led to students listening to Mario Kart music to get their homework done. Lets admit it, we are all good at procrastinating. Apparently the younger generation has begun to turn to the Mario Kart playlist to finish homework faster. Everyone knows Mario Kart, the racing game with Nintendo characters. Families, and groups of friends all get very competitive when it comes to playing the game. Everyone strives to be first, and to be first place you have to be strategic and fast. Some say listening to the Mario Kart playlist helps them build adrenaline, that motivates them to continue. The point is for you to feel rushed into completing the homework quicker. Mario Kart has a competitive theme to all of their background music. Listening while doing last minute homework, tends to trigger the anticipation in most students who have experimented. 
On TikTok students have recorded themselves listening to music while writing their essays and they stated, "My anxiety rises up, but my word count…" meaning that the word count on their essay suddenly increased. Other students claimed that they got five more assignments done quicker than they have before when listening to Mario Kart. Are you up for the challenge? Set up the Mario Kart playlist on Spotify and race your way through assignments! See how much you can get done just by listening to Mario Kart!
Photo from Nintendo Youtube Channel
About the Writer
Alondra Fuentes, Staff




My name is Alondra Fuentes and I am the editor for GC3 Media. As the editor my job is to edit every story before posting them on our...