Never Forget 9/11
On September 12th, 2022, Garden City Community College students gathered in front of the SCSC (Student and Community Services Center) building to remember and reflect upon the September 11th attacks on the United States 21 years ago. The ceremony began with blasts of trumpets and drums as the GCCC (Garden City Community College) Band played the national anthem. Speakers then began to look back on the fateful day, painting a picture for those less exposed to the events and encouraging those in attendance to spread the uniting message of 9/11. President Ryan Ruda describes the necessity of coming together to remember the day and the lives lost. 
"Services such as this help to keep this day in history. History is something we must be sure to never lose." Ruda said. "This will help students keep the messages of that day."
Jailee McVey, a criminal justice sophomore, describes the impact of the event.  
"This day is really hard for some people, yet a lot of people today weren't born yet so the meaning of this day is dying." McVey said. "Younger people today need to study more and talk to more people who experienced it. Also having gatherings like this and teaching about it is good for us." 9/11 was also and especially impactful day for all first responder forces across the nation. Brecken Ralston, a criminal justice sophomore, connects the influence of 9/11 to those who risk their lives everyday protecting the nation. 
"For first responders, any day can be your last day." R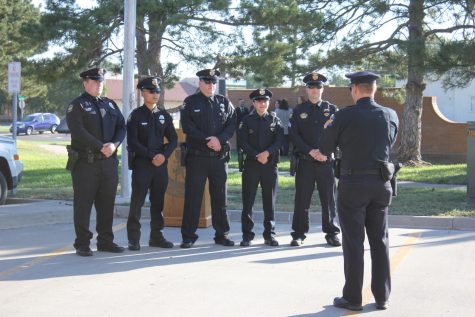 alston said. "It's a big deal for us because we would do the same as those heroes that day. Hopefully, we'll always have first responders to take the call and step up." Ralston was sincere in his statements as during the attacks on 9/11, departments within Finney County were called to aid in the recovery after the attacks. Members of Garden City Fire Department describe the events within their department on that tragic day. 
"Believe it or not, there was talk of having some of the departments in the county deployed to NYC." Membersof the GCFD also described how their image changed as firefighters changed after that day.  
"We became more guarded, training became more intense and as time wenton it changed for all of us after the 343 firefighters perished in that building. So, a lot of things fire service wise changed upon that day. A lot more people now understand what we do as firefighters. Unfortunately, this tragedy is what made people realize what we risk and what we are willing to put on the line." 9/11 is not simply a page in a history book, when armed forces attending the event described how 9/11 changed society, they describe the pivotal day as unifying.  
"It's sad that it took a tragedy for everyone to become a union. No one hated each other, there were no bad things on the news, everyone was nice to one another. We don't understand why it is so hard for us to do that today."